Have you ever had a bulky item delivered to your home, or seen one of those multi-coloured large metal containers on the back of a lorry? If you have, then you have almost certainly glimpsed the world of freight shipping. In fact, most of the products that get delivered to a home or business have at some point been shipped as freight, on their journey from factory to wholesaler, to retailer and then to your doorstep.
So, what is freight shipping and how does it work? Let's find out.
What is freight?
The term freight is used in the logistics industry to describe goods that are too large or heavy to be economically shipped as parcels. Whilst there is no universal agreement for when an item should be transported as freight or as a parcel, goods, or groups of products, which are larger than 1 metre x 1 metre x 1 metre, or weigh more than 50kg are likely to be classed as freight. Hazardous items such as aerosols and fireworks, perishables, including food and very high value items such as precious metals would not normally be classified as freight, as they require more specialised carriers.
What is freight shipping?
Freight shipping is the transportation of these bulk goods via road, rail, sea, or air. Large or heavy items may be shipped individually, whereas smaller goods are often batched together on pallets which can be easily loaded and unloaded using a dock or forklift. Freight shipping is usually more cost-effective and efficient than splitting cargo into smaller shipments and sending them via a parcel courier. Freight is often loaded in industry standard containers, which can themselves be transported via lorry, ferry, train, or plane. Freight shipping can take place within a single country, or across the entire globe.
Different freight shipping methods
The transportation method to ship the freight will depend on the geographic route of the journey, the speed at which the delivery is required and the cost that the shipper is prepared to pay. There are four ways that freight can be shipped, and often one or more is used as part of the overall journey:
Road Freight: Pallets or containers are loaded onto semi-trailers or light trucks and transported via the road network to the receiving warehouse. This approach is best for medium to large shipments, where either the rail network is not an option, or the speed and cost of air freight is not required. The main advantage of road freight is the flexibility of pickup and delivery.
Sea Freight: Cargo is loaded into a 20-40' shipping container at the nearest seaport, then packed into an ocean carrier. Ocean freight is best for cost-effectively shipping high-volume cargo or heavy items across the globe. The main disadvantage is the relatively slow speed of shipment, which can be in the scale of weeks or even months, depending on the route.
Air Freight: One or more pallets of cargo are loaded on a plane at an airport. Air freight is typically handled by one company, such as the freight divisions of common express couriers like UPS or FedEx. Air freight is best where fast delivery for one or more pallets is a priority, it is however the most expensive form of freight shipment.
Rail Freight: Trains are used to ship freight containers around the rail network, which extends from sea and airports to major distribution hubs. For land-based travel, rail is considered the most sustainable option for doing the long distance, heavy lifting, whilst lorries and vans are best placed to cover the last miles to the final destination.
What is a Truckload?
One of the terms you may hear when discussing freight is "truckload". It may sound like a general term, but it has a specific meaning. 
A Full truckload (FTL) is when the full load of a truck or trailer is taken up with a load from a customer. An FTL is up to 26 non-stackable or 52 stackable pallets. A full truckload means a company is not sharing their transport with another, which often makes it the fastest way to ship goods by road.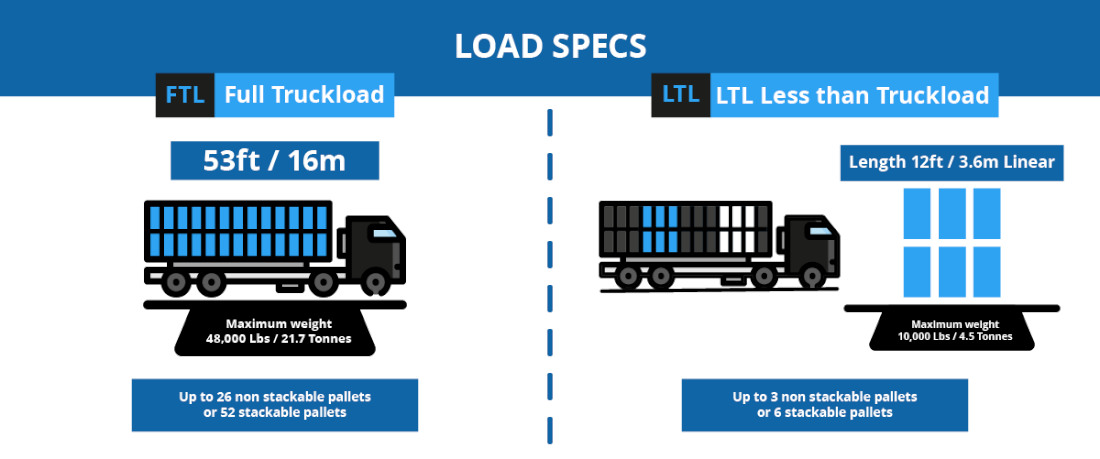 Less than Truckload (LTL) is used to describe shipments that are larger than a parcel, but do not meet the requirements of a full truckload. The exact size will vary by carrier and depends on space available in existing lorries or trucks. Typically, this is used for up to 3 non-stackable or 6 stackable pallets.
The term Partial Truckload (PTL) is used to describe any load smaller than a FTL and bigger than an LTL. Usually, the minimum size is 6 non-stackable or 12 stackable pallets. As less sharing is involved, compared to LTL, fewer stops and less handling is likely to be required.
If you are looking for a solution to ship time-sensitive, or smaller volumes of cargo, our Express Courier service could be perfect for you! With this service, we can be with you within 2 hours, and offer a same day or next-day delivery service. Our vehicles can hold up to 1200 kg (or 8 pallets) so if you have a requirement for this service, get in touch with us today!
What is Intermodal Freight shipping?
Intermodal shipping simply means that multiple modes of transportation have been used. For example, freight may have arrived in a country via a ship, be transferred by train to a rail terminal, and then shipped to a final destination by road. Often, the lowest cost way to move packages requires multiple modes of transportation, though it will take longer.
About AGI Global Logistics
AGI Global Logistics was founded in 2011, bringing together more than three decades of freight shipment experience with a team always ready to go the extra mile to provide outstanding service to every customer. Here at AGI we play an integral role in keeping supply chains flowing. Working closely with procurement and logistics teams across a wide range of diverse sectors, we provide a customised service which is tailored to meet your unique transportation requirements.
Whether you require local, national, European, or international freight shipment, we have the industry knowledge, complex network, and experience to provide the best service possible. To find out more about our logistics services and how we can help your business, please get in touch. We look forward to hearing from you.