The UK has always been a nation of traders. From the age of sailing ships exploring a brave new world, through the industrial and now digital revolutions, buying and selling of goods and services is part of the UK DNA. According to the government, the value of UK total trade in the 12 months to the end of June 2022 was a staggering £1,419.3 billion pounds.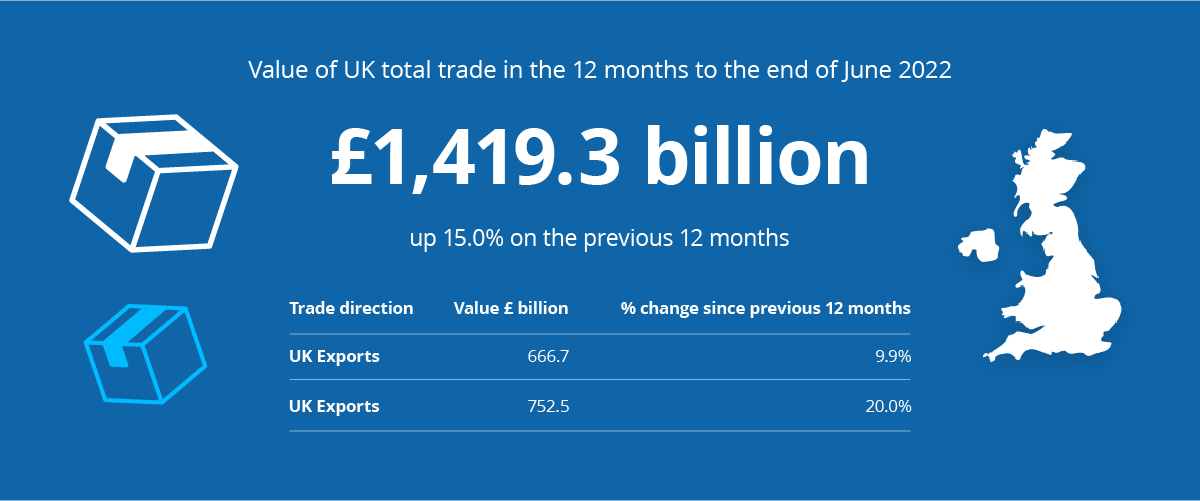 Logistics is at the heart of enabling this volume of trade. Every hour of every day, lorries, ships, trains, and planes carry a wide variety of packages, pallets and containers across the globe. And the one thing they all have in common? They all need to go through the customs process as they leave or enter the UK. The customs process is designed to ensure that no illicit or restricted goods enter the country, and that HM government collects the appropriate level of taxes and duties.
In the world in which we live, the rules, regulations, processes, and technology relating to customs clearance is ever changing. The penalties and excess costs of getting it wrong are significant. Many companies want to focus on their core business, and not face the cost and complexity of dealing with the customs process. The good news, help is at hand!
What is a Customs Clearance Agent?
A customs clearing agent, sometimes called an import broker, has the role of making the import and export of goods run as smoothly as possible, facilitating the clearance of goods through customs processes correctly and in a timely manner. They ensure that all the latest laws, guidelines, and processes are followed, which requires keeping up to date with changing rules and best practice. They cover the three stages of clearance, verifying paperwork, applying the correct fees, and releasing the shipment.
Whilst some agents are purely consultants, often logistic companies offer their services to both their own clients and those using alternative transportation. Many businesses prefer to use a logistics company who can also act as a customs clearing agent.
Customs clearance and Brexit
Following the UK leaving the European Union, there has been a significant increase in the number of imports and exports that require customs clearance, due to the creation of a new customs and regulatory border between the UK and the EU. In January 2022, full customs regulations came into effect, with the news media warning about the impact the additional workload could have.
For many companies who were used to conducting their business within the framework of the EU single market and customs union, the increase in complexity has meant a steep learning curve as well as the potential for increased costs and delay. For this reason, there has been a sharp increase in the number of businesses turning to customs clearing agents for help.
What does a Customs Clearance Agent do?
A customs clearance agent works closely with a business to ensure that all imports and exports have the correct documentation and licences in place. They will also make sure that the correct level of duties or taxes due are paid, minimising any delays and the risk of additional costs or fines. Depending on the needs of a business, the services they offer may include:
Understanding the classification and value of goods, and ensuring the correct commodity codes are being used.
Dealing with customs authorities and government agencies on behalf of the business.
Advising on necessary licences for import or export of restricted and hazardous items.
Preparation and submission of documents which need to be filed to allow goods to clear customs.
Ensuring the timely payment of appropriate VAT and import duties.
A customs clearance agent can take on any or all of these roles, depending on business needs.
What are the advantages and disadvantages of using an agent?
There are many reasons that a company will engage a customs clearance agent. Reasons include:
Reduce the cost of having to employ, manage and train an in-house customs team.
Avoid overpaying duty and VAT.
Remove the risk of underpaying duties and VAT, which may mean fines and additional charges are due later.
Reduce delays in goods being released, caused by payment or documentation issues.
Simplicity of dealing solely with the agent, rather than multiple customs and other agencies.
Peace of mind, knowing your imports and exports are in safe hands!
There is of course a cost involved in employing the services of a customs clearance agent. The fees they charge should be clear, transparent, and tailored to a businesses' specific needs. It is also important to choose an agent with a proven track record, who you can trust.
Why use a logistics partner who is also a Customs Clearance Agent?
Many businesses choose to use a logistics partner who can also provide customs services. There are many areas of synergy which help reduce the overall time, effort, and cost of combining the two. Additionally, because the day job of a logistics partner is the import and export of goods, they have a vested interest in ensuring they are fully conversant with the latest requirements, regulations and processes involved.
About AGI Global Logistics
AGI Global Logistics have extensive experience of working with HM Revenue and Customs. We have gathered an in-depth understanding of customs regulations, quotas, and allowances to ensure a cost-effective passage of goods. Our customs clearance specialists work daily with customers and other haulage providers, who appreciate our customs clearance expertise. We work in harmony with HMRC through our sophisticated, interactive Customs developed software. We use the very latest IT Systems to research and develop in line with the ever-changing requirements, particularly now that the UK has left the EU and full third-country regulations are in place.
When you choose AGI Global Logistics to import and export your goods, we always provide a safe and efficient service for each customer. By utilising our customs clearance experts, you can avoid costly delays and ensure that all your imports and exports meet the latest HM Revenue and Customs legislation. To find out more about how AGI Global Logistics can help you, please get in touch.