Since opening in May 2017, the AGI Folkestone office, who specialise in European Road Freight have grown significantly. So in August 2020 they moved to larger premises that the team of 37 call home!
The office is run by Matt Pritchard, who has over 25 years experience in freight, and the office is located in Folkestone, just moments from Junction 13 of the M20 and the Eurotunnel. The location is key to the success of the office, with the A20 connecting the Port of Dover to the M20. This means the office can supply a road freight solution across the whole of the UK and Europe!
Our Fleet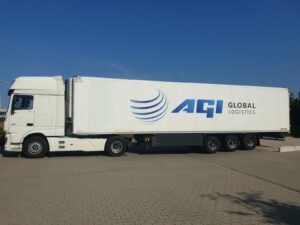 Having their own fleet of 25 trailers (20x refrigerated and 5x mega's), ensures the team at Folkestone are able to offer real flexibility when it comes to booking in shipments. Due to the capacity of the mega's, they can provide cost savings too, by reducing the number of runs needed to complete a shipment. If you are looking at transporting a large amount of cargo at one time, ask us about our mega's!
By operating such a large fleet, the team can look at different solutions for every customer too, offering a bespoke service where needs be. The size of the fleet almost guarantees availability too, and as each of our vehicles is tracked in real time, we can offer accurate timings of deliveries being made and vehicle availability. Our Customer Services team are always on hand to provide you with updates on your shipments, so if you have any queries relating to your goods, just contact the team.
From time to time we do use external hauliers, and they are all monitored for efficiency and reliability, so if you're in safe hands when placing a job with the team in Folkestone. So if you have a Road Freight requirement, contact the team today!
Refrigerated Transport
The transporting of goods in refrigerated containers, or reefers, has really taken off for the Folkestone team. And it's no surprise, given the type of products we typically import and export to and from the UK. The most common goods transported by our reefer containers are fresh fruit and flowers as well as meat, milk and other dairy products. Pharmaceuticals often require the use of this type of transport too.
For more information on our Refrigerated transport service, please click here.
Carriers
The team at Folkestone work with over 2,000 pre-approved carriers, which means the team are able to find a number of solutions for your freight requirements. And that includes Air Freight and Sea Freight all over the world, with particular experience in sending goods to Asia and America.
The team also hold a licence to transport dangerous goods, which means all forms of cargo can be shipped virtually anywhere in the world! When you deal with AGI Folkestone, the world really is your oyster!
Customs Clearance
Being based in Folkestone means Customs Clearance is a big part of what the team does. In fact, the team specialise in all of the documentation required to clear Customs. Whether you require Customs Clearance for Road, Air or Sea Freight, it can be a complicated process, so trust the team at AGI Folkestone to keep your goods moving!
You can reach the team by calling 01303 392 956 or sending an e-mail to customsfolkestone@agi.global.
Other Services
In addition to providing full truckloads (FTL), the Folkestone office have a dedicated team providing Groupage (GRP), part loads (LTL) and a wide range of domestic transport services. If you need anything transporting in the UK, look no further!
So what is Groupage?
Groupage is a method whereby 'bundles' of goods are shipped and delivered together, prior to being broken back down for onward travel or storage.
This is a cost-effective means of transporting goods, so if you have a requirement for our Groupage service, get in touch with the Folkestone team today!
The Port of Dover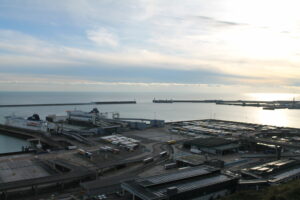 The AGI Folkestone office is in the perfect location, being less than 10 miles from the Port of Dover. This makes the office the perfect partner for all your European Road Freight needs!
The Port itself is one of the busiest ports in the world, receiving around 2.1 million trucks, 2.8 million cars, and 16 million passengers each year!
And with our fleet of trailers, don't be surprised to see our vehicles travelling around the local area!
If you're looking for a European Road Freight specialist, look no further than AGI Folkestone! To find out more about our range of transportation services call 01303 392 980 or e-mail the team at agifolkestone@agi.global.