Here at AGI Global in Pontypridd, one of the specialist services we offer is the handling and transportation of dimensionally challenging, heavy and complex pieces of equipment. For such projects, extensive planning and preparation are required at every stage of the handling, transportation and unloading process, to ensure the shipment runs smoothly.
Individually assessing every case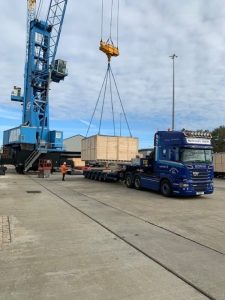 Goods are generally considered project cargo if they cannot be loaded to a 20'/40'/45HC shipping container. Assessing each case on an individual basis helps to determine whether specialised transport equipment will be required and helps us to plan how the goods will be loaded and the method of transportation.
Professional export packing is often essential to prevent damage and ensure the safe transportation of the goods. Our export packers have many years of experience in heavy and abnormal shipments to ensure goods arrive at destination in the same condition as they left your warehouse. Specialist loading equipment is often used, and we work closely with crane & versa lift operators in the UK and their counterparts at destination to handle the goods, generally loading to low-loaders or flat racks.
A great example of this in practice is the 111,741kg package that we delivered from Bridgend to Baton Rouge in Texas.
Planning the route for safe and efficient transportation
Carefully mapping the route of transportation for oversized cargo is essential, as is checking entry and exit points at ports and establishing a high level of coordination with dockside workers to prevent delays and ensure the safety of workers and cargo. Simultaneously, we work closely with customs and port authorities to ensure expeditious loading and prevention of any costly delays.
International air, sea and road freight
Heavy/specialist cargo is only a fraction of what we do here at AGI Pontypridd. From our strategically-located premises on the Treforest Industrial Estate, international air freight, sea freight and European road freight are provided on a day-to-day basis. We also have a dedicated fleet of vehicles serving the UK mainland and Europe with full load, groupage and express services.
And no matter what service you require, our dedicated team will go above and beyond to get your goods to their destination. For more information, give us a call on 01443 561 104 or send an email to wales@agi.global.